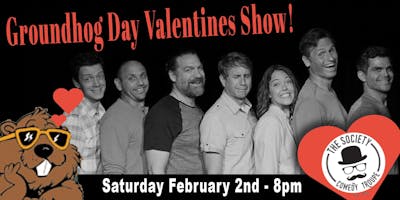 February 2, 2019, 8:00 pm - 9:30 pm
·
The MAIN
·
The MAIN
·
Details
Improvised music, comedy, scenes, the works. If you've seen "Whose Line Is It Anyway" you have an idea of what kind of hilarious, energetic comedy that team improv can be. February 2 is Groundhog Day so we will be incorporating that somehow into the show!
If you come to our show, you will laugh. If you don't, there's no one who can help you. The Society are 12 time iO West Cage Match Champions!
Want to learn more about The Society Coemdy Troupe? Check them out at www.societycomedy.com or on Facebook @societycomedy. For more info on what's happening at The MAIN, visit www.atthemain.org or on Facebook @themainnewhall.
INFO

This is a clean show and is appropriate for all ages

Doors open 30 minutes before show time

Seating is first come first serve

If you require ADA Seating please contact (661) 290-2255 at least 24 hours prior to show time so we can reasonably accommodate your request
NO REFUNDS