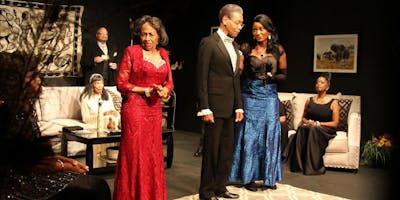 June 22, 2019, 8:00 pm - 10:00 pm
·
The MAIN
·
The MAIN
·
Details
The Dumas Players presents The Grieving Widows' Auxiliary: Parts I and II
Written by Mildred Dumas and Directed by Naomi Stenson
Part I to be performed Saturday Jun 22 at 2:00 and 8: PM. Part II to be performed Sunday June 23 at 2:00 and 6:30 PM. 
Ever wondered what an older single lady has to do to get a man? The Grieving Widows' Auxiliary (GWA) is a group of aging, but spunky widows who meet monthly to help one another through the grieving process while also plotting to snag their next husband by any means necessary. With the help of obituary columns, these ladies take turns attending the funerals of random women in an effort to wiggle their way into the good graces of the surviving widowers.
Part 1:
In Part 1, the members of GWA realize that even with all of their tricks and schemes they seem to be losing their touch when it comes to finding a new man. This leads them to solicit the help of the beautiful, newly widowed, 39 year-old Mrs. Susan Whitmore. The ladies plot to use Susan as "bait" to lure single men to the Auxiliary's upcoming dance. The scheme works as men arrive in mass and the Auxiliary raises more money than ever before. However, Susan teaches the members of GWA a well-deserved lesson in the process. Saturday, June 22 at 2:00 p.m. and 8:00 p.m.
Part 2:
In Part 2, we learn that Gilda, the only surviving founding member of GWA, has finally found husband number six. She is engaged to the handsome, debonair and wealthy Mr. Winston Belvedere. They are hosting their Engagement Party at Winston's lavish estate with Gilda's closest friends, other GWA members, present. Everything is going well until Winston's niece, former GWA member and recently remarried Mrs. Susan Whitmore-Longmire, arrives and gives her uncle the lowdown on his fiancée and her friends, whom Susan describes as: a group of old, scheming, gold-digging, dried-up prunes. The cat fight is on as Gilda tries to hold onto her man, and Susan tries to break the engagement. Sunday, June 23 at 2:00 p.m. and 6:30 p.m.
"Surprise, romance and mystery will capture your attention and again have you in stitches," Rochelle Williams, Producer, Inglewood Center for Positive Living.
"A remarkable, witty, well-acted and extremely funny comedy that will capture your heart with its strange comic twists and turns. Highly recommended," Long Beach Times.
**Please note that Part 1 is on Saturday only and Part 2 is on Sunday only. You do not need to see Part 1 in order to see Part 2.
FAQ
Tickets are $20 for general admission, $15 for students and seniors
When checking out please pay close attention to which day you are purchasing for. Part 1 is on Saturday and Part 2 is on Sunday
Each show is 2.5 hours and doors open 30 minutes before show time
Concessions available for purchase
Seating is first come first serve
If you require ADA Seating please contact (661) 290-2255 at least 24 hours prior to show time so we can reasonably accommodate your request