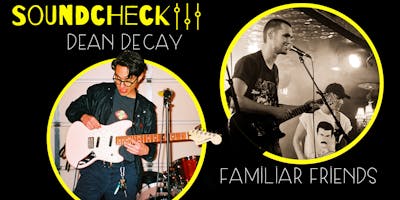 July 27, 2019, 8:00 pm - 10:00 pm
·
The MAIN
·
The MAIN
·
Details
Soundcheck is the SCVTV Community Media Center's newest music series that provides a platform for young musicians from the Santa Clarita Valley to show off their musical prowess with the performance of original songs.
The show will begin with special guest, Ruby Garcia, at 8 PM.
Familiar Friends is an alternative rock band founded in Santa Clarita, California in April 2018. The band consists of vocalist and guitarist Jared King, bassist Elias Gutierrez, and drummer Nic Menzano. They released their first ever single, "Shoot for the Stars," in September and followed it up with their debut EP, "Solar Bear," in October. Familiar Friends has been playing shows around Santa Clarita and Los Angeles since their formation and they're currently busy recording their first studio album. Familiar Friends performs at 8:20 PM.
Playing music since he was 8, Daniel Dvorak has been performing around the Santa Clarita Valley for over a year under the moniker Dean Decay. Embracing the New Wave and Dance genre with guitar, drums and bass, Dean Decay's style is perfect for weekend nights and getting the party started. They recently released their first album "Hot Take" in April." Dean Decay performs at 9 PM.