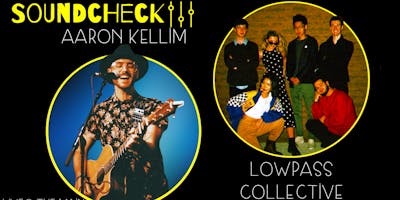 August 24, 2019, 8:00 pm - 10:00 pm
·
The MAIN
·
The MAIN
·
Details
Soundcheck is the SCVTV Community Media Center's newest music series that provides a platform for young musicians from the Santa Clarita Valley to show off their musical prowess with the performance of original songs.
The show will begin, at 8 PM.
Aaron Kellim: "If you get nothing else from listening to his infectious brand of sunshine pop, singer/songwriter Aaron Kellim wants you to know that you're not alone. Years in the music business have shaped Kellim's unique relationship to his songs and to those who hear them. Through it all, he has found that people always want to feel like they are a part of something special. Aaron gives it his all during his performances, no matter how big or small the venue."
Lowpass Collective: Formed last year after meeting at CalArts, Lowpass Collective bring a fuse of jazz and ethnic artpop to give their listeners a shared experience they won't forget. Lowpass was recently featured on the CalArts Jazz CD and continue to make music and play shows within Santa Clarita and the Los Angeles area.
FAQ
Doors open 30 minutes prior to show time.. 
Concessions available for purchase.
NO REFUNDS