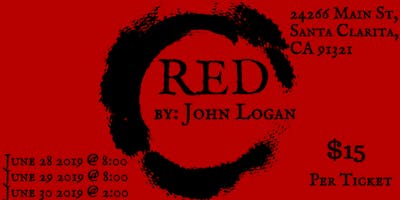 June 28, 2019, 8:00 pm - 9:00 pm
·
The MAIN
·
The MAIN
·
Details
John Logan's taut, visceral two-hander, Red, features artist Mark Rothko at the height of his career.  Viewed through the lens of his youthful new assistant, Ken, we witness Rothko at the pinnacle of his creativity, but struggling through the creation of a series of large paintings, commissioned as a series intended to feature in New York's brand-new Four Seasons Restaurant.  As Ken and Rothko paint, they challenge each other to ask big questions about art: what it takes to create it and what its role should be in the world. Set in the 1950s, and based on a series of real events, Red takes a compelling look at the ever-changing relationship between an artist and his creations.  
Not Suitable for children under the age of 13
FAQ
Doors open 30 minutes prior to show time. Seating is first come, first serve.
Tickets: $15 General Admission
If you require ADA seating, please call 661-290-2255 at least 24 hours prior to show time
NO REFUNDS