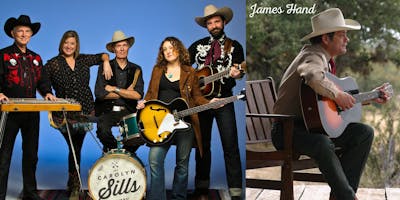 September 30, 2017, 7:00 pm - 9:00 pm
·
The MAIN
·
The MAIN
·
Details
"Folks, like I said before and it's STILL true, James Hand is the real deal!"   – Willie Nelson
James 'Slim' Hand, Texas legend, Grand Ol' Opry alumni, Ray Benson collaborator and one of American music's secret treasures, met The Carolyn Sills Combo in Austin when he received a Lifetime Achievement Ameripolitan Award in 2016. In 2017, they shared the stage in Austin, when Carolyn and her combo were nominated for their 3rd Ameripolian Award for Western Swing Group and Female of the year. Having such a great time playing together, Carolyn asked James if he would consider coming to California for a string of shows with her combo.  James responded, without a hitch, 'Honey, do you know how much it would take to get me to come play in California? Eighty-five cents.'
www.jamesslimhand.com www.carolynsills.com
What James Hand does, he does straight from his heart, taking the hard-won lessons that life and love have taught him and pouring them into his songwriting and performing. James Hand sings like nobody but himself, his phrasing drawing out the pain and humor of his lyrics with an unpredictable yet soulful series of tiny inflections. His songs are equally mysterious and unclassifiable.
While they are noticeably rich with the influences of his heroes — classic country architects like Hank, Lefty, and Ernest — Hand's songs are uniquely his, imbued with equal parts gallows humor and the ability to stare unflinchingly into life's darkest corners. 
At the unlikely age of 55, Hand just started to receive the attention he deserves after having released his first nationally-distributed album in 2006, The Truth Will Set You Free, produced by Asleep at the Wheel front man Ray Benson and legendary Texas producer and multi-instrumentalist Lloyd Maines. The album featured confident, definitive versions of twelve of Hand's original compositions — songs that are at once refreshingly unique and classically timeless. Poised at the brink of national attention, if anything, he was more humble than ever. "The people around me really came through for me," he says, with not a trace of affectation, "The record company, my producers, and my band. In fact, sometimes I think the only person who hasn't been kind to me is me…"
"In over 30 years of playing country music, I have never, absolutely never seen anyone as unique as James Hand. There is no one like this artist – complex, yet simple. Simply, James Hand is country music, and he has no equivalent." – Bob Cole, Country Music Hall Of Fame '03, Hill's Café, South Austin, Texas 
"James Hand music uses no smoke or mirrors. There is definitely no glossing over of any aspect of this CD… James writes lyrics that haven't been written before and I suspect that he's lived every word in these songs."  – Lloyd Maines
"You probably won't hear James on your country music station these days, but if you're one of the folks out there who loves true, honest, down-to-earth country music songs, based on hard life lessons and affairs of the heart, then James Hand is your man."  – Ray Benson
After a few years of touring the US, UK, and Europe, and fulfilling his lifelong dream of appearing on Nashville's Grand Ole Opry, James Hand released his follow up CD on Rounder Records. Ray Benson and Lloyd Maines again co-produced the project which will included all new James Hand original songs.
"The first time I saw James Hand I was shocked. He looked and sounded so much like Hank that I was frozen in my chair as I listened. His songwriting and performance style are real throwbacks to the sounds and times I truly love. He's a perfect gentleman and true Texas troubadour."– Darrell K. Royal
Carolyn Sills Combo – Three time Ameripolitan Award nominee for Western Swing group and female of the year and two time Academy of Western Artist Award nominee for Western Swing group and album of the year, fans of classic country and western swing are falling in love with The Carolyn Sills Combo's original songs, written and produced by Sills and her longtime guitarist and husband, Gerard Egan.  Their current release, Dime Stories Vol 2, was named by No Depression as one of the top new release of 2016.
"Local powerhouse Carolyn Sills is the real deal of throwback country music. She has enough soul, heart, style and swag to convince audiences and listeners that they may have been transported to an era where country swing rules the waves, juke joints were the place to be, and heartache had a kick like a mule… their new album is a record packed from start to finish with all the lonesome wails, tongue-in-cheek humor, and late night reflection you'd expect from a classic country gem." – Cat Johnson, Good Times Magazine.
FAQs
Tickets are $15 online and at the door (if they don't sell out before hand)
Doors open 30 minutes prior to show time
Seating is first come first serve
If you require ADA seating please contact (661) 290-2255 at least 24 hours prior to show time so we can reasonably accommodate your request.
NO REFUNDS