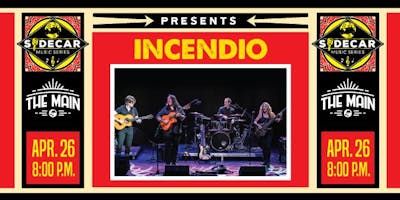 April 26, 2019, 8:00 pm - 9:30 pm
·
The MAIN
·
The MAIN
·
Details
The Los Angeles-based group INCENDIO performs original "world guitar" compositions, featuring incredible guitar-playing across a variety of genres: Latin, Middle-Eastern, and Celtic grooves. Formed in 1999, the group has 9 CDs and 2 DVDs available internationally, variously hitting the Billboard, CMJ, NAV, and Amazon.com charts. Averaging over 150 shows a year since 2000, INCENDIO's live performance is an explosive improvisational journey, garnering tremendous audience response in such diverse venues as the Ford Amphitheater, Ambassador Auditorium, Strawberry Music Festival, California Worldfest, Millpond Festival in Bishop, Thousand Oaks Civic Arts Plaza, every Levitt Pavilion in the United States (Pasadena CA, Macarthur Park CA, Arlington TX, Memphis TN, Westport CT, and Bethlehem PA), the Sundance Film Festival, and the National Gallery of Art in Washington DC amongst many others.
Their ninth international release, the recent Christmas-themed "O Night Divine," came out in December 2015. Their previous release, June 2013's "The Shape of Dreams," stayed at or near the top of the Amazon flamenco and world charts for the remainder of that year. They have reached 80 million spins on streaming radio and have over 10,000 Facebook likes. Their music can be heard on Pandora, Spotify, and other streaming outlets. Incendio is Jim Stubblefield (guitar), JP Durand (guitar, guitar synth), Liza Carbe (bass, guitar) and Tim Curle (drums).  http://www.incendioband.com
FAQs
Tickets are $20 online and at the door (if they don't sell out before hand)
Doors open 30 minutes prior to show time
Seating is first come first serve
If you require ADA seating please contact (661) 290-2255 at least 24 hours prior to show time so we can reasonably accommodate your request.
NO REFUNDS