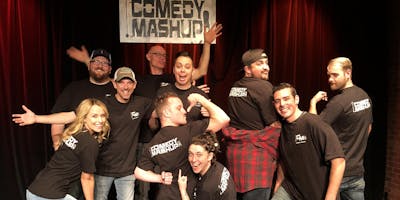 April 5, 2019, 8:00 pm - 10:00 pm
·
The MAIN
·
The MAIN
·
Details
Comedy Mashup returns to The MAIN for another great evening of comedy and improv. Headliner and supporting comedians to be announced. 
A little more about the cast: Comedy Mashup is a group of working comedians and improvisers from all over the Valley and Hollywood that come together once a month to put on a show that is one half stand up and the other half improv comedy. The improvisers work in the television, movie and theme park industries as well as the following venues: iO West, UCB and The Groundlings. The comedians work weekly at some of the biggest clubs in Los Angeles: The Comedy Store, The Hollywood Improv, Pasadena Ice House and Flappers. 
Lineup for this month:
John Brickley – Has performed at The Ha Ha Comedy Club, Ice house and laugh factory.
Will Burkart.- Has performed at the Hollywood Improv, The Ha Ha Comedy Club, Comedy Works Denver, and had opened up for Bobby Lee.
&
Julian Fernandez.- He has been on ESPN, First Impressions with Dana Carvey, Kevin and Beans April Foolishness, and just had his first half hour special at the Ice House!
Suggested audience is 18+
FAQs
Tickets are $10 online through April 4, and $15 online and at the door on April 5
Doors open 30 minutes prior to show time
Seating is first come first serve
Beer, wine and concession available for purchase
If you require ADA seating please contact (661) 290-2255 at least 24 hours prior to show time so we can reasonably accommodate your request.
NO REFUNDS