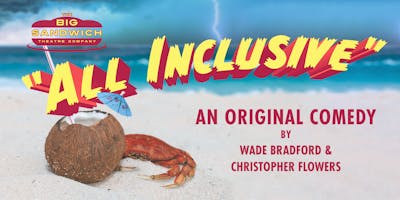 September 13, 2019, 8:00 pm - 10:00 pm
·
The MAIN
·
The MAIN
·
Details
All Inclusive is the second production from Wade Bradford and Christopher Flowers featuring The Big Sandwich Theatre Company, Santa Clarita's very own acting troupe dedicated to full length original comedic plays. 
All Inclusive is a hilariously silly ensemble comedy based on a remote island in the dreary South Atlantic. Incredibly optimistic and eccentric resort owner, Mr. Maca'a, dedicated his life to creating a paradise for lovers after losing his own dearly departed wife eighteen years ago. However, the resort's first guests, Rick and Kathy Fernsby, find themselves in a horribly primitive environment with a savage native maid, a lascivious manservant, a conceited billionaire playboy, and an oblivious resort owner with a very different definition of paradise. The Fernsby's came to the resort with a marriage already on the rocks hoping to rekindle and relax. But now they find themselves LITERALLY on the rocks, jagged and volcanic, and hoping to escape the week alive. Or at least, still married.
Fans of "Noises Off", "The Play that Goes Wrong", and The Big Sandwich's previously produced and published play "Change the Station" will love this comedy romp. This is one not to miss!
FAQ
Doors open 30 minutes prior to show time. Seating is first come, first serve.
Tickets: $20 Adults; $15 under 18 years old
If you require ADA seating, please call 661-290-2255 at least 24 hours prior to show time
NO REFUNDS