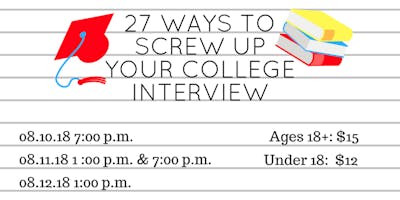 August 11, 2018, 7:00 pm - 9:00 pm
·
The MAIN
·
The MAIN
·
Details
LCAZ Productions presents 27 Ways to Screw Up Your College Interview
When two college recruiters at a prestigious university need to fill one last spot to keep their jobs, twenty-seven eccentric, dimwitted and slightly-insane high school seniors are eager to come in for an interview. What seems like a simple task turns into a nightmare when the applicants turn out to be a reality TV star, a practicing vampire, an amateur magician, and others that are much, much worse. Each applicant's interview hilariously illustrates what NOT to do at a college interview. 
FAQ
Show is approximately one hour and 30 minutes with a 15 minute intermission.
Doors open 30 minutes prior to show time. Seating is first come, first serve.
Tickets are $15 for adults (18+) and $12 for youth (17 and under)
Concessions available for purchases
If you require ADA seating, please call 661-290-2255 at least 24 hours prior to show time
NO REFUNDS